Shopping Cart
Your Cart is Empty
There was an error with PayPal
Click here to try again
Thank you for your business!
You should be receiving an order confirmation from Paypal shortly.
Exit Shopping Cart
New Instructors Qualified:
It's July 2008 and a new bunch of instructors have qualified to teach Blokarting. At Aston Down airfield, the home of Cotswold Gliding Club, 10 new instructors qualified over 2 days. They come from a mix of the UK Blokart dealer network and the BLSA membership and will now be spreading the word. In fact, of note are Ted Harthill and Graham S of Southport who work in the community and our first paraplegic instructor Chris Selway who is based in Bristol
Audi:
What's a car manufacturer doing here ? Well, take a look on the Audi channel (http://channel.audi.co.uk and look for drivetime : A4 Avant ) at a recent A4 Avant review with Iwan Thomas and you may see the chairman of the BLSA losing a race and a Blokart ! We had fun, we like Audi's, and I discovered how wonderful Pembrey can be.
Ainsdale Round 1 of Brit Champs:
Justin Heap, national Blokart champion for 2007 from Weaverham in Cheshire , is on course to hang on to his trophy for a second year after a storming weekend at Ainsdale. Leading the way to the finish in most races by a significant margin, Heap tested the 24 strong fleet of three wheeled 'go-karts with a sail' to the best of their abilities in varied conditions for the two days of competition. It wasn't quite the walkover that might sound though, with tough challenges from many on the course and some very close racing, inches apart at speeds well above the town limit.
While it was supposed to be a summer event, layers were the order of the day with particularly heavy showers on Sunday and slightly variable winds. There was a lot of sail changing as a distraction, since the wind was on the cusp of sail sizes most of the time, and the balance between upwind and off the wind performance proved critical. Newcomer and local Jonathan Sharp mounted a strong challenge but couldn't sail consistently enough to make it stick, though the strength of previous dinghy knowledge nearly paid off. Most local Tim Seed made a strong showing but couldn't put it together consistently enough to head the rankings despite knowing his local beach well.
With competitors travelling from the south west like Graham Bobin of Speedsail UK, the south east in the form of John Gilborn – Team ICS Comms – and Scotland and Northern Ireland as well as points in between, covering a big age range (11-67 !), our sport looks good for the future.
A bigger challenge is expected at the last round of the championship in Cornwall in October. Will Justin Heap retain his title and keep a Champion out of the south ? Watch this space !
Full results available at www.blokartchampionships.com .
Good News for Gwithian Beach:
Don't cancel your holidays, we have an agreed restriction zone at Gwithian that enables us to continue wind powered sports through the season, albeit over a restricted area. There are signs at the beach in explanation, and you can find further information at www.gwithianbeach.org - in fact as it is a trial restriction your feedback at the site is crucial so please visit it and let us know how you feel. We must be vigilant that the restriction is not increased unreasonably, and feedback is required to safeguard beach usage ! and works with the Sportability charity.
Speed Latest:
This just in, Good Friday 08. While we were justifiably proud of Kevin Meyers 55.6mph in stoooopid winds on the tarmac of Perranporth airfield a couple of months back, the sands of Pembrey and some more easily useable wind has produced evidenced new speeds. BLSA chairman Chris Moore has hit 59.6mph !! Not far down the speedo Steve Harvey and John Juleff are in the 54mph + range. I suggested to Chris that was a bit scary (4 inch altitude, no brakes) and his reply was simply "Understatement!". So big cojones to all, more news as it breaks !
Grass Speed:
Blokart East Anglia supremo Tim Spurge reports a potential grass record - 36.2kts in gusts to 39kts on a 4m. Not that Blokarting is all about speed, but any challenges to this ?
Maintenance Alert for '08 Blokarts:
Blokart have sent an alert with regard to the new 08 front forks. A few of them do not meet the required quality level and will be swapped out as a free warranty exchange. The fault may mean the front axle comes undone while sailing, so check your front axles as you should all securing nuts.
Classics are NOT Affected.
SPORT, chassis 5157 through 5256 ARE Affected.
PRO chassis S1654 through S1753 ARE A|ffected.
If you have a chassis of either type within this number range, please contact the dealer you bought it from.
Please note also that this exchange programme is time limited, ending July 31st.
"What a fantastic time we had!! The kids had no idea we were BloKarting until we pulled up and the smiles on their faces said it all! Happy, friendly going instructors (Nigel be..."
Sarah, Allan, Kieren, Carrie & Josie Hibble
Very Smiley Family
"Thanks to Nigel and team for a great day. So much fun even if the wind didn't behave as it should. Thanks for all your encouragement not to mention push starts. Will defini..."
James&Kelly
Blokart beginners
"I like my adrenaline sports as does my 15 year old daughter. Thought blokarts might be a bit tame but how wrong I was. Clear safety briefing, helmet & gloves and we were ready t..."
Paul Coleman
Spud King
UKPPG Powered Paragliding School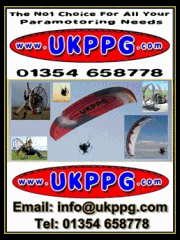 /